Nichia's Developments for Micro-LED and Other Lighting Technologies in 2017
(Author: Judy Lin, Chief Editor, LEDinside)
The slowdown in LED backlight market including smartphone displays continued to trend on into 2016 that even top player in the industry Nichia is looking beyond this particular market sector in its 2017 roadmap.
Offset by oversupply and cutthroat price wars in 2015, LED backlight market competition remains intense and the market decreased steadily, by the start of 2016 growing number of LED manufacturers started to look into other niche lighting market applications, such as automotive lighting, UV LED, IR LED, and others.
Top Japanese LED manufacturer Nichia announced at a press conference to celebrate its 60th anniversary in Taipei, Taiwan on Tuesday that in 2017 it upheld a positive outlook for intelligent automotive headlight applications, human-centric smart lighting, micro-LEDs, lasers, and UV LED technologies.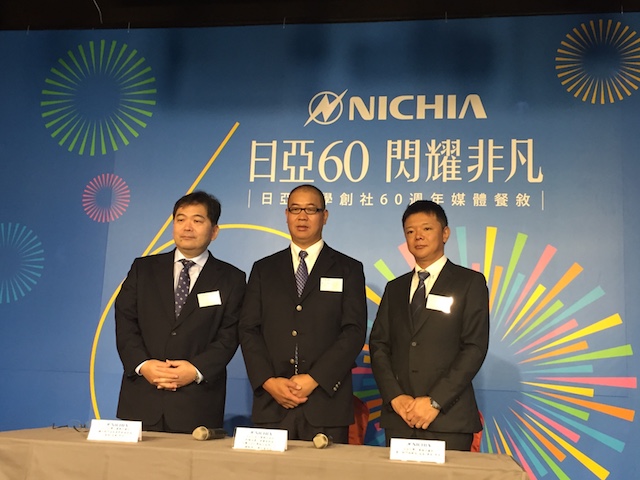 Left to right: Hinori Takagi, General Manager, Intellecutal Property Department, Legal and Intellectual Property Dept., Legal & Intellectual property Division Administration Unit, Nichia, Chun Chia Tai, Chairman and President of Nichia's Shanghai and Taiwan offices,Takashi Sakamoto, Principal Technical Officer, Optoelectronics Products The BU, Nichia.
Micro-LEDs trends to move from large displays to smaller device
Previously, most industry experts such as CEA-LETI and Epistar noted smaller displays, such as wearables and smartphones would be the entry point for micro-LEDs, where it possessed considerable technology advantages over OLED and LCD, such as lower energy consumption, self-illuminating properties, brighter and more efficient illumination output.
Takashi Sakamoto, Principal Technical Officer of Optoelectronics Products at Nichia's perspective on micro-LEDs surprisingly contradicted with mainstream opinion, instead of moving from smaller devices to larger screen applications, he pointed micro-LEDs would make its way in larger displays before moving to smaller ones.
He outlined the order of micro-LED applications would be: large TV displays, outdoor displays, indoor displays, monitors, smartphones, VR devices and lastly smart watches. 
Asked why his micro-LED development order was reversed from most manufacturers, Sakamoto responded it depended on the market value and micro-LED technology. The wearable market value is small compared to the display and backlight market, which still has a considerably larger market share than the niche wearable market. 
Technology wise it might be easier to make micro-LEDs for large displays before making smaller displays as well because of the size requirements for different applications, the tinnier the display the more miniature the micro-LED chip has to be, said Chun Chia Tai, Chairman and President of Nichia's Shanghai and Taiwan offices.
"There are many different definitions on the market for micro-LEDs with sizes ranging from 3 to 4 micrometer, 50 micrometer, to even 200 micrometer," said Tai. "Displays might use 30 micrometer to 40 micrometer sized micro-LEDs, while smartphone screens might require 3 micrometer."
Tai said the company's ultimate aim was to mass produce 3-micrometer sized micro-LEDs, and that the technology itself was not an issue. 
Nichia's micro-LEDs uses RGB LEDs, and develops most solutions in-house, but might not develop mass transfer solutions for the chips, said Sakamoto. 
"It will take more than three years for micro-LED technology to fully mature, in the meantime you might see end products or applications with rudimentary micro-LED technology emerge on the market by 2017," he added.
Nichia still working on UV-C LED
The Japanese manufacturer is rather successful in the UV-A LED market sector, where some of its products can be found in air purifiers, but is still developing 280 nanometer wavelength UV-C LEDs with longer lifetimes for water sanitization applications.
The company is working to improve the UV-C LED reliability and durability, but did not announce the product launch schedule.
UV LED products are projected to become increasingly widespread in home appliances, including air conditioners air purifiers and others. 
Based on LEDinside estimates the total value of the UV LED market worldwide will grow from US$166 million in 2016 to US$555 million in 2021 at compound annual growth rate (CAGR) of 27%.
"As the technology continues to improve, the global market value of UV-C LEDs for the sterilization/purification application is forecast to grow at a high CAGR of 56% from US$28 million in 2016 to US$ 257 million in 2021," said Joanne Wu, Assistant Manager, Research Department, LEDinside.
Smaller countries might not need laser headlights in cars
Speaking about laser headlight developments, Sakamoto noted the market remains relatively small with low market penetration rates. Even though German automotive makers, such as Audi and Benz, have embraced the advanced lighting technology, Japanese car makers especially those focused on the domestic market might require this feature at all.
"Laser headlights typically have a beam distance of 600 meters and above," explained Sakamoto. "This might be necessary in Germany, but there is little demand to make a headlight with this illumination range in Japan, other than in certain areas in Hokkaido."
Despite certain market limitations for laser headlights, Sakamoto projected the market would continue to grow with demands peaking at around 2018.
Nichia is also setting aside more resources to develop adaptive headlights, and is working with driver and power solution providers, such as Texas Instruments (TI) to develop smart headlights.
"There has been growing demand from clients to make smart headlights," said Sakamoto.
The company is mass producing 4-chip LED packaged headlights, and for Daylight Running Lights (DRL) the leading Japanese LED maker is producing 3 millimeter LED packages. The company will not be making automotive LED modules that might put it in a competing position with clients.
The company's automotive lighting revenue is projected to reach 55 billion Japanese Yen (US $) by 2016. 
Sakamoto projected its automotive lighting business revenue will double in the future, while its laser lighting business would triple or quadruple.
Laser technology have a small revenue share in the company earnings, but Sakamoto estimated revenue would grow exponentially from the current 5% revenue share in 2017, to at least 17% by 2020.
Lighting in the future needs to provide added value
Manufacturers overt emphasis on LED lumen output has become a bygone among top manufacturers, where human centric lighting, and luminaries with high color quality performance will become increasingly important, said Sakamoto.
Development of human centric lighting capable of color switching, or having Ra above 95, warm color temperature 2000-2200K LED, will become more common.
"Lighting quality often is sacrificed when LEDs are driven up to higher lumen output," said Sakamoto. "We are working on making LEDs with better color performance, and might target the commercial lighting sector in the near future."
Nichia's Shanghai office is developing LED grow lights and conducting research on the most suitable LED lightingspectrum for plants.
For a manufacturer devoted to R&D to keep its technological competitive edge, Nichia will be investing about 40 billion Japanese Yen in total in 2017 to continue advancements numerous lighting technologies.